What our Trainees Say About Us
I am a second generation tattoo artist who started tattooing in 1981 thanks to my Father who was a tattooist in the 1950's right upto the late 1980's.
I traveled to New Zealand tattooing and studying Maori art.
Tattooing is my passion I tattoo in all styles Japanese, Celtic, Tribal ,Dot work & Mandala's
Black & Grey also full colour.
My tattoo studio is located in the heart of Birmingham City Centre.
Fully registered and approved by the council.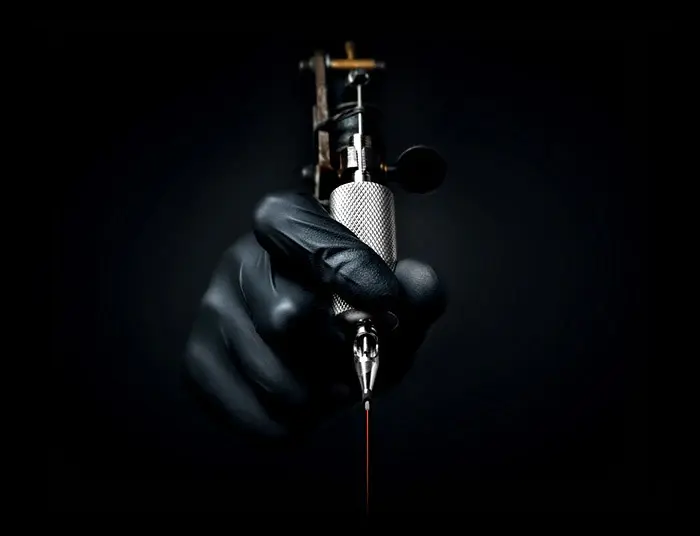 Each person trained will on completion of their tattoo training receive a Diploma/Certificate to prove they have been trained to British health authority standards. Please email me or call Darren on 07929 860706 for more information on my 1/3/5/7 day tattoo courses. Please try to book well in advance as I have busy tattoo studios and lots of customers to tattoo so I don't have much free time available.
How to apply a transfer/stencil
Tattoo machine maintenance/mechanic's
How to set up your outliner/shader tattoo machines
How to work at the correct voltage
How to guide the outliner/shader tattoo machines when tattooing on the skin
A complete run down on the different tattoo needle types sizes and gauge
How to use tattoo colours/pigments
How to watershade/sumi shading techniques
Sterilization of all tattoo equipment and Hygienic procedures that By law have to be done under the government health and safety laws governing tattooing in the UK
C.o.s.h assesment/keeping records of sterilization procedures. Public liability/treatment risk insurance
How to set up and run your own tattoo business.
Approved manufacturers and tattoo equipment suppliers
Had a great time, learning the knowledge and secrets of the tattoo world from Darren. 100% professional in every way, recommended! thanks again.
Thanks for enrolling me on your tattoo taster course at such short notice, learnt loads of pro tips on how to tattoo. Good training, good day in all. thanks again. x
Hey Dude had a fantastic day learning how to tattoo the easy way, hassle free, informative. thanks Darren!
My tattoo taster course learning to tattoo with Darren has helped me come a long way towards putting on nice clean / sharp tattoos. Thanks Daz mate. Dan  🙂
This is Jay, one of our tattoo students who successfully completed one of our tattoo training courses Visited the tattoo studio in Tamworth at www.tattoo-tattoo.co.uk with Darren for my tattoo training course in August 2009,  I have now successfully opened my own tattoo studio! I learnt more from hands on training than i could from any dvd or youtube vid, Darrens tattoo training courses come highly recommended.
Really enjoyed the course.  Daz made it really laid back and really motivated me to pass.  🙂  K8 xx
The Tattoo taster course Darren enrolled me on was top notch, now i know how to set up my equipment and how to tattoo. Thanks for your time and patience. Thanks again, Best regards Kieron.
Really good tattoo training, attention to detail, fantastic experience. A+! Thanks Darren. Regards Lexx.
The tattoo taster course was easy to understand, glad I enrolled! Thanks for your advice and time Darren. Best regards Becky. x
Thanks for giving me the opportunity to learn the tattoo process Darren.  Turned my dreams into reality! Really enjoyed the taster course.  Big thank you, Keeley. x
Professional in every way, original old school and new techniques covered.  Taster course was more informative and detailed than I expected, professional teacher. thanks Darren, best regards Richard.
Thanks for enrolling me on the tattoo taster course, will be booking more lessons soon! Thanks Darren.
Thanks for your time over Easter Darren, your tattoo training taught me everything I need to know.  Love the water-shading/sumi technique.  Thanks again. Simon.
Thank you for taking the time to teach me how to tattoo over the bank holiday, glad I waited for the tattoo taster course to start.  Training was better than I expected. Best wishes,  Ann-Marie. x
Thanks for the tattoo training, learned a lot, great teacher and great tuition. Cheers, Dave
Thanks for the learning curve mate!  Top tips, thanks again. Syd.
Tattoo training was very helpful, Darren is a very patient teacher.  Machine maintenance  does play a big part in perfecting a professional tattoo.  Tattoo training course was very helpful!  Thanks!
Fantastic teacher, very patient and friendly with no expectation.  Really puts you at ease. Thank you. Angie B.











—

Fantastic Teacher
Was really satisfied with what I learned on the tattoo training course.  The wife is still smiling, loves the tattoo.  Thanks Darren.
Thanks for enrolling me on the tattoo training course Darren.  Most enjoyable, my hubby's leg looks great now it's finished. I have an apprenticeship in the new year!
One-to-one tattoo training course with Darren was worth the journey to the U.K. learned so much at your studio! Cant thank you enough. recommended if you want to www.learntotattoo.co.uk
Did my tattoo training with  Darren at www.tattoo-tattoo.co.uk in Tamworth studio.  Comfortable with the techniques  I was taught and very happy with the knowledge of how to prevent cross infection. Thanks  Darren All the best Jordan.
Leigh Completed our Tattoo Training Course December 2010 Darren, Your Tattoo Training Course was Fantastic. Thank you for an enjoyable and informative training session. I am more than happy with the results. Cheers Leigh.
Had a great tattoo training session working on Alex's leg.   Everything I learned on the tattoo training course was really helpful and informative! Thank you for your experience Darren. x
Had a brilliant time at the tattoo studio in Tamworth, learnt such a lot in such a short space of time! I'm opening my own studio next week! Many thanks, John